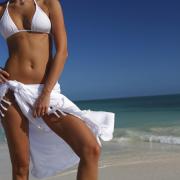 Breast implants enhance the size, shape and overall appearance of your breasts. Implants are manufactured by three companies: Allergan, Mentor and Sientra. At Bay Area Aesthetic Surgery, we offer breast implants made by Allergen and Sientra. Natrelle is Allergan's line of saline and silicone breast implants.
For the most part, all three breast implant manufacturers produce breast implants that are similar in terms of quality, safety and effectiveness. Generally, plastic surgeons will choose certain brands based on their familiarity and experience with the products, as well as other factors. Our team has found Natrelle breast implants provide natural, beautiful results for his patients. This line of implants also has the following advantages:
Lifetime warranty: For certain types of saline or silicone Natrelle implants, you will automatically have a free, lifetime warranty for those devices. That means if one or both of your implants ever ruptures or deflates because of a failure of the implant shell, then Allergan will replace the implant free of charge. It doesn't matter how long you have had the implant, the warranty is good for the lifetime of the devices.
ConfidencePlus® warranty: For certain Natrelle implants, you will be enrolled in their ConfidencePlus® warranty program, free of charge. Some of the highlights of this program include up to $1,200 in out-of-pocket expenses such as surgical fees and other fees not covered by insurance.
The only way to know if Natrelle breast implants are the right way to get the breast size and appearance you've always wanted is to consult our team at Bay .
If you are interested in learning more about Natrelle breast implants, and if you live in or around San Jose, San Mateo or San Francisco, please contact Bay Area Aesthetic Surgery to schedule a consultation..