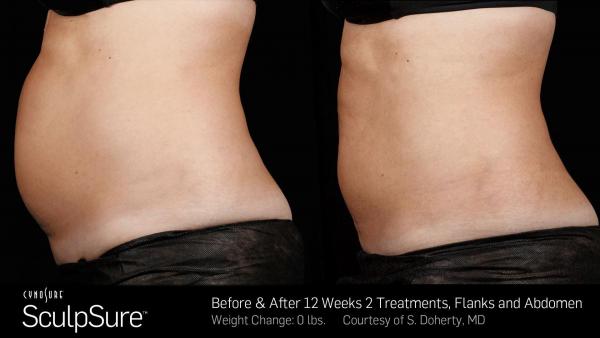 Board-certified plastic surgeon Dr. Liu is proud to offer innovative SculpSure treatment at his Bay Area cosmetic surgery practice. SculpSure is a recently FDA-approved device that melts away love handles and a puffy abdomen without surgery.
During treatment, applicators are laid flat on the skin, allowing the laser energy to reach deep below the dermis. Targeted fat cells are melted and naturally processed out of your body through your lymphatic system. One session takes about 25 minutes, and most people undergo multiple treatment sessions to get optimal results. You may see a great first result after about 6 weeks, once your body has had an opportunity to process out the destroyed fat cells. Most people reach their best results 12 weeks after treatment.
We are pleased to offer this advanced fat-melting treatment to our patients. While liposuction and other cosmetic surgeries are very effective options for removing extra fat, some of our patients simply do not want to undergo surgery at the moment. SculpSure provides an effective way to eliminate excess fat without any incisions, sutures or downtime.
To find out if you are a good candidate for SculpSure in the Bay Area, please call Bay Area Aesthetic Surgery at 6505706066 to schedule a consultation with Dr. Liu.