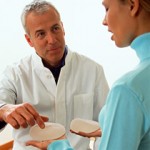 When considering having breast augmentation, there are many factors to consider. Choosing an implant size is a very personal decision that depends on what you are most comfortable with. The surgeon's goal is to educate the patient so that they are able to make a well informed decision. The two options for implants are silicone gel and saline. The silicone used today is third generation cohesive gel which was FDA approved in November of 2006. After a fourteen-year study, it was found that there was no correlation between silicone implants and connective tissue disease. The saline or salt water-filled implants have been used since the 1990's. If you were to view photos of women with silicone or saline implants you probably would not be able to distinguish between the two.
The main difference between the two implants is in the "feel" of the implant. The silicone gel implants feel much more like "real" breast tissue then the saline implants. Going behind or in front of the muscle depends on breast shape and tissue coverage. If you have very thin skin and little breast tissue then going behind is usually a better choice. Typically silicone implants are the best choice for women who have very little breast tissue. If you have a "droopy" or sagging breast then in front of the muscle will create more fullness of the breast.
The implant incision site is also an important factor. You can place the implant through the transaxillary (armpit), inframammary (under breast) or periareola (through the areola). A very important factor to consider would be breastfeeding. The periareolar incision should be avoided if you wish to breastfeed in the future. This can cut into milk ducts and interfere with adequate milk production. Breastfeeding is not affected by the implant being in front of or behind the muscle. Pregnancy is another important factor to consider when choosing size. It is hard to determine how pregnancy will affect your breasts. Usually, the breasts will increase in size and thereafter when breastfeeding. Most women wish they had gone larger and we usually encourage you to go with the largest volume you are comfortable with.
Size can also be hard to determine. With implants, you can never be sure what cup size you will end up with. Everyone carries their implants differently. If you are very petite or narrow, you will end up with a larger cup size with a relatively moderate implant volume. If you have a broader chest, you can handle a larger volume implant without looking "top-heavy". A good tool for helping you determine what size implant to choose is the rice test. This allows you to play around with different volumes and get a feeling of how you will look with your clothes on. It is not exact but it gives you a pretty good indication of size. Putting gel implants in your bra is a terrible representation of what you will look like.
Implants come in low, moderate, and high profiles. Your surgeon will do a few measurements of your chest wall and this determines which profile is best for your body. The low profile has the least amount of projection and is widest in diameter. The moderate and high-profile implants are narrower in diameter but have a higher projection. Things to consider as a prospective patient would be your physical activities. The larger the implant, the more weighted it will be. It is very important to support your breasts 24/7 and is recommended that you even sleep with a shelf bra at night.
It is important to view before and after photos with your plastic surgeon. Not everyone shares the same aesthetic goals. Also, it is important that you have realistic expectations. Breasts come in many shapes and sizes and what you consider to be "pretty" or "desirable" breasts may differ from one person to the next.